Simple, practical How-To articles and tips.
We are your total church publication solution.
With every issue of The NewsletterNewsletter, you'll receive more than just professionally designed clipart, images, photos, and graphics—specially crafted for church newsletters; but you'll also get expert advice and knowledge from professional editors to make your newsletter, or any church publication, the best it can be.
Our simple, practical How-To articles will have you creating newsletters like a pro in no time. Each month, look for professional advice on a variety of subjects related to church publishing including help for improving the layout, writing, design, mechanical preparation and mailing of your newsletter.
We'll even cover some topics that you may not have considered for your newsletters. Everything we discuss within these articles is designed to make your job easier and make your publications reach the heart of your church membership.
Improve your knowledge of writing, editing, layout, design, printing, mailing, e-newsletters and more with our How-To articles. Whether you're just beginning or are an experienced veteran, we have the how-to tips for you! Check out our sample articles below. This is just one of the many topics we cover within our vast library of help documents and how-tos.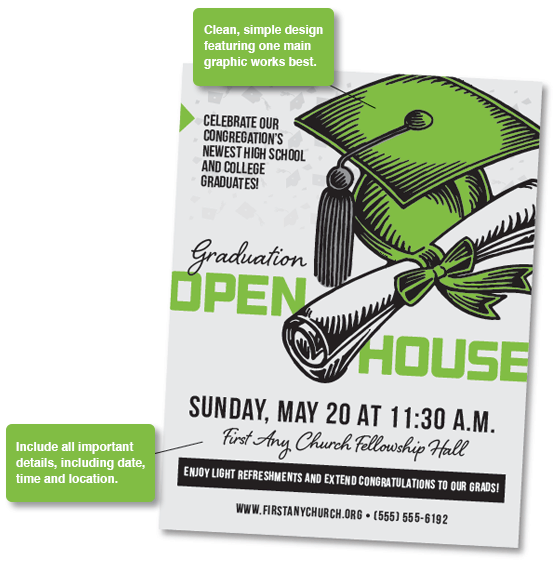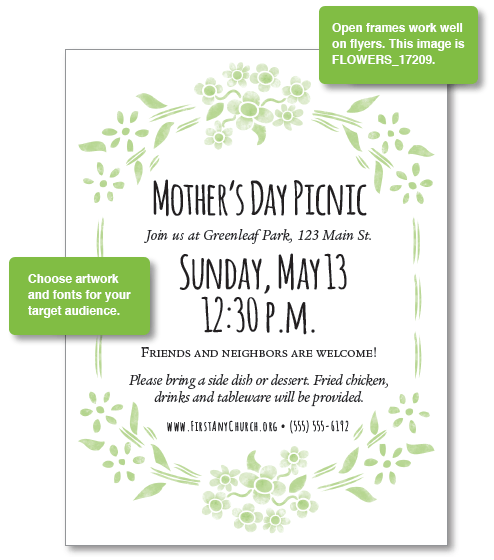 Newsletter and bulletin inserts, or flyers, have been a workhorse of church communications. Even with the surge in e-newsletters and social networking, inserts still play a key role in promoting important events. They're highly versatile, able to inform recipients about nearly every ministry, event and program conducted at or by a church.
Distribution methods for inserts are also plentiful. The single, loose sheets are tucked inside newsletters and bulletins but also can be posted on bulletin boards, taped to windows, placed inside information packets, handed out after worship or throughout the community, folded and mailed, stacked on countertops and even emailed (after being converted to HTML or attached as a PDF).
No matter how you use inserts, make sure they grab the attention of as many people as possible by following these tips:
Choose the size of an insert wisely. Flyers printed on 8.5" x 11" paper fit well into people's hands. Although inserts can be smaller, they shouldn;t be so little that they'll get lost. An option for flyers that will be inserted into bulletins is printing them on paper that's slightly wider or taller than the bulletin itself. This increases the odds that people will notice the insert.
Keep the message simple and to the point. Boil down the announcement to the essentials so the insert is a quick read. If an event requires more information than you can concisely place on a single sheet, include a phone number or website so people can get further details. Not everyone will take that extra step, so be as complete as possible without getting wordy.
Don't omit vital information. It's amazing how often people overlook details that seem obvious — even dates and times. If the flyer is a sign-up sheet or has a tear-off section, include instructions for what to do with it, as well as the deadline for responding.
Tailor wording, font choices and artwork to your target audience.
Use a short but enticing headline. Set it in a large point size in an easy-to-read, boldface font.
For design, think simple and uncluttered. One large graphic is usually sufficient. If there's too much to look at, viewers won't know where to focus. Effective graphics include background images and open frames, available at our website.
Choose paper and ink colors with care, ensuring plenty of contrast. Never sacrifice readability in an attempt to be creative. Although bright-colored paper gets attention, flyers printed on it may be tough to read. Before finalizing color choices, print a test flyer to see if text is readable from a distance.
Try something new! Inserts not only highlight content well but also permit creativity. For example, you can use phrases instead of complete sentences, try an unusual font (as long as it's readable), experiment with graphics and even break a few rules of good composition. Many editors have success using bookmark-shaped inserts. A youth-related insert could be an unusual shape, such as a triangle.
With efforts to "go green," more churches are cutting back on paper. Some editors now avoid inserts unless they'll be distributed beyond the congregation. For internal announcements that once warranted a flyer, try using stand-out boxed blurbs that fit within the constraints of the existing publication.
By following these guidelines for inserts, you can get a lot of mileage out of this reliable publicity vehicle.

Start today. Cancel anytime.
---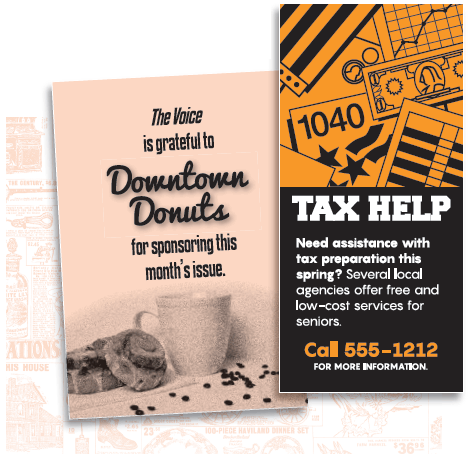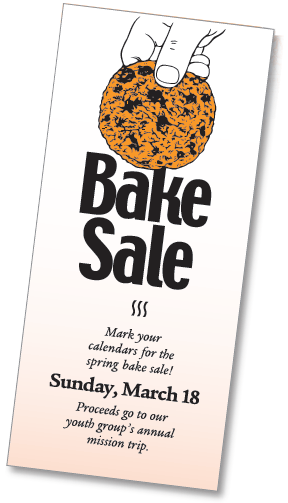 To defray rising expenses, you may be tempted to sell advertising space in your church newsletter. Surprisingly, ads aren't off-limits for publications that want to maintain their nonprofit mailing status. Instead, the types of permissible ads are merely restricted.
Certain types of advertising can help defray costs associated with producing, printing and mailing the publication. You may want to consider the benefits of allowable advertisements and sponsorships.
According to the U.S. Postal Service (USPS), advertising is "all material … of which a valuable consideration is paid, accepted or promised that calls attention to something to get people to buy it, sell it, seek it or support it." According to that definition, even newsletter articles can be considered advertising if the content attempts to get readers to buy, sell, seek or support an event or a product.
What's permitted?
Thanking contributors and sponsors. This isn't considered advertising as long as promotional material isn't included. You can thank any donors by name and, if applicable, print their business logos, unless those include promotional slogans. You can't include contact information for the contributor or sponsor.
Okay: The Voice is grateful to Downtown Donuts for sponsoring this month's issue.
Not okay: The Voice is grateful to this month's sponsor, Downtown Donuts, home of the Tuesday two-for-one deal.
Mentioning specific products or sales is considered promotional, thus making the second ad impermissible. Also steer clear of coupons, endorsements and comparisons to a sponsor's competitors.
Public service announcements. The content must be related to government, other nonprofit organizations or the public interest, and the publisher can't receive any pay for the announcement.
Okay: Need assistance with tax preparation this spring? Several local agencies offer free and low-cost services for seniors. Call 555-1212 for more information.
Advertising products or services that are substantially related to the church's purpose. Examples for churches include Christian bookstores, music shops, religious schools and so on.
Okay: Christian Surplus, located at 123 Park Pl., offers a large selection of Bibles, Christian gifts and educational materials. Many Bibles and gifts can be personalized while you wait. Plus, church employees and teachers receive a discount on all supplies.
What's restricted?
Advertising products or services that aren't related to the church's purpose. This isn't permissible unless your newsletter meets the content requirements of a periodical publication. (Content guidelines are available at https://pe.usps.com/.)
If a business carries both secular and religious products, you can mention only those services or products related to the church's purpose. For example, a bookstore that sells both religious and secular products can place an ad in a church newsletter if it limits the ad to church items. Because the advertised products are substantially related to the church's purpose, the ad is acceptable for nonprofit mailing.
Advertisements for credit cards, insurance or travel packages are nearly always prohibited. There are exceptions when the items advertised are available only to the church members and not to the general public. Because of the complexity of these rules, consult your post office if you're planning to advertise any of these products or services.
Use care with fundraising announcements. Rules for fundraisers can get complex. Ads or articles for church fundraisers are allowable if the earnings will be used for the church's main purpose and if the funds stay in the church's control.
Okay: Mark your calendars for the annual spring bake sale next Sunday, March 18. Proceeds will go to our youth group's annual mission trip this summer.
Some businesses offer fundraisers for which they retain control of some of the money. For example, Super Subs may offer to donate to a congregation a percentage of one day's sandwich profits. The restaurant retains control of the money, and the fundraiser benefits both it and the church. An article or advertisement on such a fundraiser isn't allowable in a nonprofit mailer.
For those types of advertisements, plan to send a separate mailing at standard postage rates. Other (less-expensive) options include distributing flyers or posting information on the church website. You also can consult the local post office about making minor changes to your "qualification for mailing" rate.
If, on the other hand, churches sell items that have been paid for by the church before they're sold — such as cookbooks or calendars — then funds are controlled by the church and benefit the church. These types of ads and articles are okay.
For mailing requirements tailored to your specific needs, visit the USPS website or contact personnel at your local post office.